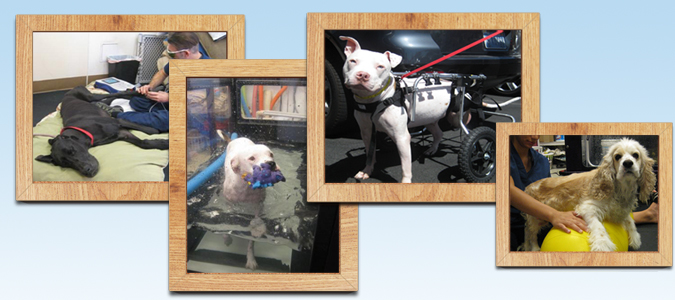 At Las Vegas Veterinary Specialty Center, our physical rehabilitation department treats a variety of post-operative orthopedic and neurologic patients, facilitating their return to function and gait. Physical rehabilitation is fast becoming the standard of care in veterinary medicine. Did you know that physical rehabilitation has been shown to help our senior and overweight pets as well?
At LVVSC, we offer exercise sessions geared towards geriatric patients that may be suffering from chronic arthritis, low energy, and the usual senior aches and pains. We also design weight-loss and conditioning programs for the "couch-potato" dog, and those who are not losing weight on diet alone.
All consultations are performed by a Nevada licensed Animal Physical Therapist who received her certification in canine rehabilitation from the University of Tennessee, and has been head of our physical rehabilitation department since 2006. We would like to encourage you to educate your clients about adding a customized exercise program to their pet's treatment options. Please contact us with any questions about our services and how to refer.