Oncology
Andrew Vaughan, DVM, MS, DACVIM Oncology

Medical Oncologist, Las Vegas Veterinary Specialty Center 2006 – present

Board-certified in Oncology, American College of Veterinary Internal Medicine

Numerous scientific publications in fields of research including canine lymphoma and leukemia, osteosarcoma, and targeted chemotherapeutics

Special interests – investigation of novel targeted therapies for canine and feline cancers

Member of the Executive Board of the Animal Foundation, 2012 – present

Member of the Executive Board for the Veterinary Cancer Society, 2010 – 2013

Medical Oncology Residency, North Carolina State University, 2006

Rotating Small Animal Medicine & Surgical Internship, North Carolina State University, 2002-2003

Veterinary College, University of Prince Edward Island, DVM, 2002

University of California, San Diego, MS, 1998

Saint Mary's University, BS, 1996

Outside interests include cycling, hiking, camping, canyoneering, skiing and spending time with family and friends
Holly Burr, DVM, DACVIM Oncology

Las Vegas Veterinary Specialty Center, 2011- present

VCA Animal Care Center of Sonoma County, 2010-2011

Residency in Medical Oncology, Tufts University, 2007-2010

Internship in Medical Oncology, Animal Cancer Care Clinic, 2006-2007

Hospitalist, Veterinary Specialists of South Florida, 2006-2007

Internship in Internal Medicine and Surgery, Veterinary Specialists of South Florida, 2005-2006

University of Wisconsin – Madison, DVM, 2005

University of Utah, BS, 1999
Stephanie Byrne, DVM

(Practice limited to oncology)

Dr. Byrne went to Washington State University and did her residency at Royal Veterinary College in the UK. She practiced in Florida for two years before moving to Las Vegas to be closer to home.
Sarah Vidal, DVM, DACVIM Oncology

Las Vegas Veterinary Specialty Center, 2020-present

Medical Oncology Residency, University of California, Davis, 2017-2020

Oncology Specialty Internship, Veterinary Specialty Hospital of San Diego, 2016-2017

Rotating Small Animal Medicine and Surgery Internship, Angell Animal Medical Center, 2015-2016

Cummings School of Veterinary Medicine at Tufts University, DVM, 2015

University of Miami, BS, 2011
About Our Practice
Our board certified oncologists offer innovative care for pets that develop cancer, and ensure that the most appropriate treatments are provided. This may include targeted anticancer treatments, chemotherapy, immunotherapy, electrochemotherapy, intralesional or intracavitary therapy, surgery or more simple palliative care.
Before treatment is pursued, we provide consultation in a compassionate, professional manner to ensure owners entirely understand all available treatment options, potential side-effects, expected outcomes, and the practical aspects of cancer care.
For many cancers the treatment options range from aggressive, potentially-curative regimens to more conservative palliative approaches. In each and every instance we provide
detailed and appropriate information and guidance, pursue appropriate diagnostics, and eventually help the owner decide what form of therapy is the best for their pet.
Just as for humans with cancer, there are many instances in which the disease can be beaten, particularly when treatment is pursued at an early stage. Additionally, for those cancers that are not curable, treatment can often provide both a significant prolongation of survival and improvement in a pet's quality of life. Many of these accomplishments occur without substantial side-effects or hospitalization.
About Our Service
With board certified and residency trained doctors in Oncology, as well as access to other specialties within LVVSC,
we provide multidisciplinary care for the oncology patient.
At our facility we house state of the art diagnostic equipment, including digital radiography, ultrasound, CT and MRI, as well as a complete rehabilitation center to provide physical therapy for our cancer patients.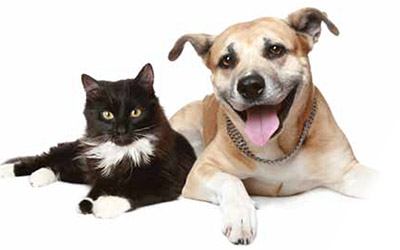 We provide comfortable facilities to ensure patient comfort and rest during treatment.
Oncology challenges often present themselves as tumors in all parts of the body. Common cancers in dogs or cats include:
Hemangiosarcoma
Lymphoma
Mast Cell Tumors
Melanoma
Osteosarcoma
Squamous Cell Carcinoma
Soft tissue sarcoma
Since the diagnosis of cancer can be a traumatic experience, our doctors are trained in grief counseling. This combination of medical expertise and counseling skills ensures both client and pet receive optimum consideration and care.
Clinical Trials
We understand that in some instances cancer therapy can be very financially challenging for families. We also recognize that the only way to make substantial progress in the fight against cancer is through well-funded clinical trials that evaluate new therapies for canine and feline cancer patients. We are frequently involved in clinical trials that are partially or fully funded and that aim to treat a wide array of cancers in our pets. Month-to-month these clinical trials may vary substantially but our oncologists will go over with you any such trials that we offer and go over the benefits and risks of having your pet enrolled in such a trial. In some instances such trials may greatly help to offset the costs of effective cancer therapy while also expanding knowledge for the treatment of cancer for generations to come.