Leadership Team
The LVVSC administrative team is dedicated to making sure our hospital delivers the best veterinary specialty care possible. We want to foster strong relationships with referring veterinarians and our shared clients and patients built on respect, trust, communication, teamwork and education.
David R. Mason
B. Vet. Med, MRCVS, DACVS, DECVS
Chief of Staff
David Mason, B Vet Med (Honours), MRCVS, is a Board Certified Small Animal Veterinary Surgeon specializing in Orthopedic, Neurologic, Oncologic and General Soft Tissue Surgical Procedures.
A native of Northern England who grew up on a dairy farm and has been involved with animals his entire life, Dr. Mason earned his veterinary degree with honours from the Royal Veterinary College, University of London in 1999. After graduation he moved across the Atlantic Ocean in order to pursue a Small Animal Medicine and Surgery Internship at Kansas State Veterinary Medical Teaching Hospital.
read more
---
Dean Penniman
Hospital Administrator
Dean Penniman joined the Las Vegas Veterinary Specialty Center (LVVSC) as its Hospital Administrator in January of 2006. He is responsible for the day-to-day operations, financial management and strategic development of LVVSC and its sister facility Veterinary Emergency + Critical Care (VE+CC), Nevada's only 24 hour veterinary emergency and critical care facility. Combined, the two services provide care to thousands of animals each year.
read more
---
D'Vonna Varner
Customer Care Manager
D'Vonna is our Customer Care Manager and has worked for LVVSC since 2006. She has also been the VECC Customer Care Supervisor since their grand opening in 2011. We have a great customer care team, which D'Vonna says makes her job feel very easy!
read more
---
James Quintana, MVZ, BS, LVT
Clinical Coordinator – Surgery, Ophthalmology, Neurology
As Clinical Coordinator, James' primary responsibility is to act as the team leader for surgery, ophthalmology and neurology departments. In addition to fulfilling all the duties of a technician, James directs administrative support for the technicians in these three departments planning, delegating, and coordinating technician duties.
read more
---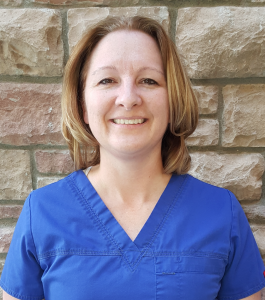 Juanita Good, LVT
Clinical Coordinator – Cardiology, Internal Medicine, Oncology
Juanita completed a Bachelor of Science degree (biology) at Eastern Mennonite University in 1995. She then pursued a Veterinary Technology degree at Blue Ridge Community College, becoming licensed in 1998. After several years in general practice in Virginia, she moved to Colorado and joined the CSU oncology team in 2001.
read more
---
Barbara Gomez
Human Resources Manager
Barbara Gomez was born in Manila, Philippines. She moved to Las Vegas in 1990 and is a graduate of Bishop Gorman High School and UNLV. Barbara has worked as a human resources representative in the legal and medical fields since 1996.
A happy employee is a productive employee. As the HR Manager, she lives by this motto: Driven by a passion for human and animal rights, she strives to create a cohesive working environment for LVVSC and VE+CC staff, which enables all its members to focus and excel in their specialized fields.
Barbara is the keeper of Speedy Gomez, a 30 year old desert tortoise.
read more
---
Autumn Berg
Administrative Assistant
Autumn is a native to the Las Vegas area and has been with LVVSC since 2009. She has witnessed the addition of VECC and has been there to be a part of the Specialty Center growth. Autumn has a big spot in her heart for animals and has 3 cute little babies of her own. She has been the Customer Care Supervisor of LVVSC and VECC since 2015 and is very happy and excited to be a part of such an awesome team.
read more
---