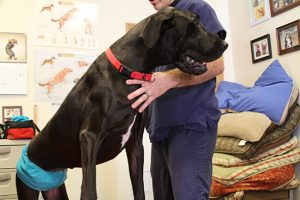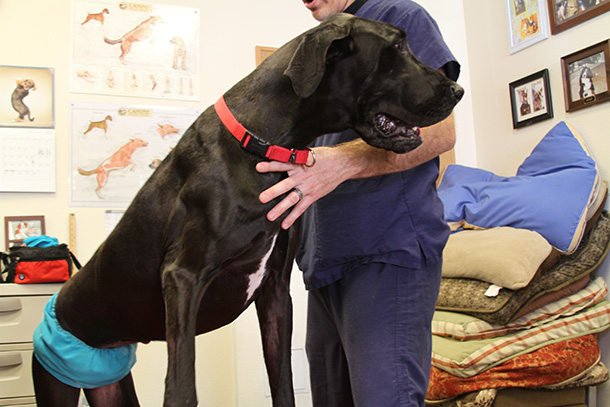 During the past century, our efforts towards preventing and treating diseases have largely focused on the use of drugs that have been developed to alter or change the course of a specific disease process. Despite massive gains in medicine some of these treatment protocols still fail to provide optimal outcomes. This has resulted in a paradigm shift to find alternative solutions that can either work synergistically with or as an alternative to traditional medicine. There are a number of new treatment protocols being evaluated that collectively are referred to as "Regenerative Medicine Techniques". Two of the most common treatments that fall in to this category, both of which are available and being used at the Las Vegas Veterinary Specialty Center, are Platelet Rich Plasma Treatments and Stem Cell Therapy.
Platelet Rich Plasma / Autologous Conditioned Serum – Injection of autologous (from the patient) platelets has been reported to hold potential for treatment of both osteoarthritic joint conditions along with soft tissue injuries such as ligament and tendon strains. The key to these regenerative medicine treatments is the release of growth factors within the tissue or joint that can enhance the regenerative processes in osteoarthritic joints. These factors are released from the concentrated platelets and can directly promote healing and reduce inflammation within joints and tissues. An additional effect of these factors is the recruitment of naturally occurring stem cells within the body to further facilitate tissue and environmental changes. Injection of autologous platelet concentrates have been shown to show clinically significant improvements in human patients with osteoarthritis.
This is a continually developing field in both human and animal medicine, and as such, there are many different technologies and protocols available for collection and injection of these products. The common factor is collection of a small volume (approximately 10mls) of blood from the pet that is then treated in a variety of ways that result in separation of the red cell component from the clear plasma portion. The clear plasma is then harvested and injected into the site of injury or disease. The vast majority of patients can be treated on an outpatient basis without the need for anesthesia or invasive surgical treatments. A recent publication in the November 1st edition of the Journal of the American Veterinary Medical Association Vol 243, No 9, November 1, 2013 showed significant treatment effect of a single intra-articular injection of autologous platelets at 12 weeks after injection in patients with osteoarthritis of a single joint.
Stem Cell therapy is the act of using cells from the patient's own body to help decrease pain and inflammation and permit injured tissues to heal via regeneration. Cells fall in to multiple categories depending on how many other cell types they can generate. The most juvenile stem cell can theoretically produce all different cell types in the body depending on which chemicals and signals that they respond to. Conversely, hematopoietic stem cells can only produce red and white blood cells. The most common techniques presently utilized are focused on cells that are isolated from the patient, modified or expanded and then delivered to the affected tissue or organ in that same patient (autologous stem cells).
Embryonic stem cells would potentially have the greatest benefit for treatment but due to many ethical and social barriers collection and delivery of adult derived stem cells appears to have more promising clinical potential.
Mesenchymal Stem Cells can differentiate in to the cells that make up bone, cartilage, tendon and ligaments. For orthopedic diseases the important primary functions of stem cells include
Regeneration and healing of injured tissues
Decreased inflammation
Stimulate new blood supply (Angiogenesis)
Activate resident stem cells (Chemotaxis)
Stimulate healing and tissue growth
Create a scaffold for tissue growth
Protect cells from death (anti-apoptosis)
Break down scar tissue in chronic conditions
Adult stem cells can be derived from many locations, but adipose (fat) and bone marrow have been the most heavily investigated to this point. There are still many unknowns with this type of therapy such as what is the best cell type from which to harvest the stem cells and what is the best time to initiate treatment. Adipose derived cells are collected via a minor surgical procedure under general anesthesia. The consensus opinion is that the abdominal (falciform fat) is the best source of cells. There are 2 principal methods for production of the cells. Immediate in house processing for same day injection (fractionated cells) or shipping and processing at a specific laboratory for cultured stem cells. Cultured stem cells are generally returned for injection 10-14 days after the harvesting process.
Cell Delivery – A principal aspect of stem cell and platelet treatments involves accurate delivery to the affected tissues. At the Las Vegas Veterinary Specialty Center, the stem cells can accurately be delivered to the target tissue under ultrasound guidance. LVVSC is one of only a small number of veterinary facilities in North America with the ability to perform advanced musculoskeletal ultrasound for both diagnostic and treatment purposes.
Cell Storage – Stem cells can be stored for injection at a later date regardless of the initial mode of handling. In many cases of patients that have been treated for Osteoarthritis, it is not uncommon to need a follow up injection 9 to 12 months after the initial injections.
Platelet and Stem Cell Combination Therapy – There is recent evidence (Conzemius et al) that stem cells injected in to an Osteoarthritic joint do not survive and so would not be capable of producing positive treatment effects. This would suggest that the intra-articular use of Stem cell therapy as a single treatment agent for Osteoarthritis is not the most efficacious method for their usage. This has lead to the combination of platelet therapy / Stem cells being utilized with increasing frequency. The platelet therapy is thought to markedly reduce the inflammation within the joint and therefor would permit the stem cells to survive and provide regenerative function within the diseased joint.
Soft Tissue and Tendon Injuries – As the environment for competitive activity such as agility, dock dogs, and fly ball is ever increasing, sport and performance related soft tissue injuries are being seen on a more frequent basis. These injuries can be especially challenging to treat; especially when the requirement is to return to athletic performance sports. "Core Lesions" where there is structural damage within the body of the tendon are being more frequently recognized with the usage of musculoskeletal ultrasound and advanced diagnostics such as Magnetic Resonance Imaging. Surgical treatments for such lesions have had negligible success and re-injury is a common sequel to any traditional medical treatments. One of the principal confounding factors for healing has been delayed healing and re-injury due to poor blood supply to the injured central portion of the injured ligaments and tendons. Stem cell therapy appears to have clinical efficacy by targeted delivery of the cells in to the core lesions under ultrasound guidance. In cases where damage is significant such in a patient with complete tendon ligament or rupture, then local injection of stem cells at the surgical site can augment the repair and facilitate healing and regeneration rather than scar tissue formation. Patients are frequently able to return to full competitive function after this type of regenerative therapy.
Examples of commonly treated soft tissue injuries
Forelimb / Shoulder
Hindlimb
Supraspinatus
Subscapularis
Iliopsoas –groin
Biceps Tendon
Achilles Tendon
Rehabilitation Therapy – Many of these cases of Osteoarthritis and soft tissue injuries require multi modal therapy including rehabilitation techniques to achieve the most optimal outcome. Tissue regeneration, rather than scar tissue formation, would be the preferred method of healing. Soft tissue injuries of ligaments and tendons often benefit from the provision of support from devices such as braces and orthotics to protect the tissues during the healing process.
Rehabilitation therapy under the guidance of a certified and trained therapist is imperative in order to provide the safest and most appropriate treatment for your patient's particular condition. Shannon Almond MSPT, CCRP, APT oversees and supervises such protocols at LVVSC. There are very specific requirements for rehabilitation of regenerative medicine patients as some modalities such as class 4 laser therapy, shock wave therapy, therapeutic ultrasound and appropriate use of Non-Steroidal Anti-Inflammatory Medications (NSAIDS). These modalities used inappropriately can actually reduce the effectiveness / destroy the stem cells and affect the success of the applied treatment.
LVVSC Chief of Staff and surgeon, Dr. Mason, has been consulting at one of the leading centers for provision of Veterinary Regenerative Medicine in the world: Veterinary Orthopedic and Sports Medicine (www.vosm.org) in Annapolis Junction, Maryland. Under the guidance of Dr's Sherman and Debra Canapp he has become proficient in a vast array of Regenerative Therapy and Rehabilitation Techniques. Dr. Mason and Dr. Canapp are actively collaborating on studies to both validate some of these techniques and to better describe the clinical outcomes and successes of treatment for a number of different soft tissue and orthopedic conditions. Dr. Mason recently submitted credentials and will be sitting the examination to become a member of the American College of Veterinary Sports Medicine and Rehabilitation in August of 2014. (www.vsmr.org)
If you are interested in Stem cell or Platelet therapy for your patients please contact us at 702.262.7000.