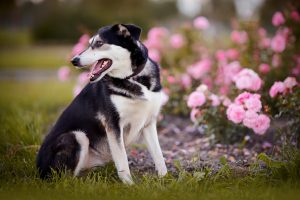 The Las Vegas Veterinary Specialty Center is currently enrolling cases in a nationwide clinical trial to evaluate a monoclonal antibody (AT-005) that is conditionally licensed by the USDA to aid in the treatment of dogs with lymphoma. The study is designed to assess the benefit of adding AT-005 to a multi-agent chemotherapy protocol for dogs with intermediate to high grade T-cell lymphoma.
Trial Summary
An estimated 48 client-owned dogs will be enrolled in this study. All enrolled dogs will receive multiagent chemotherapy (CHOP protocol), which will be supplemented by either placebo or the monoclonal antibody. Dogs will be randomized equally (1:1) to receive antibody or placebo during the chemotherapy protocol and the veterinary oncologist performing the dogs' evaluations will be blinded to their group assignment. Study visits are required twice weekly for four weeks, once weekly for another 15 weeks, and monthly thereafter. The study duration is 18 months; however, if progressive disease occurs before the 18-month visit, dogs will be removed from the study at that time.
Trial Funding
Dogs presenting to the participating trial site will be screened for enrollment. The pet owner will be financially responsible for the initial consultation, blood/ urine analysis, and thoracic radiographs. A lymph node biopsy and flow cytometry analysis will be performed at no cost to the owner. Once the dog is confirmed eligible (non-indolent, T-cell lymphoma), all procedures and treatments required by the study including chemotherapy, antibody therapy, exam, bloodwork, and other required diagnostics will be fully funded. Previous studies with this antibody have shown that side effects tend to be minimal, but the study will pay up to $1,200 for medical management of side effects that may occur, either as a result of chemotherapy or monoclonal antibody treatment.
Trial Eligibility
To qualify for enrollment, dogs must meet the following criteria:
• Client-owned dog > 1 year of age
• Body weight at least 2 kg
• Biopsy and flow cytometry confirmation of naïve, intermediate or high grade T-cell lymphoma Multi-agent Chemotherapy for Dogs
• Stage II or higher
• At least one peripherally located lymph node measuring ≥ 2 cm longest diameter
• Performance Score of 0, 1 or 2 [0 = normal activity; 1 = restricted activity: decreased activity from pre disease status; 2 = compromised, ambulatory only for vital activities, consistently defecates and urinates in acceptable areas]
Dogs cannot be enrolled if any of the following conditions are met:
• Glucocorticoid therapy for more than 7 days prior to enrollment
• Prior chemotherapy, immunotherapy, or molecular- targeted therapy
• Any uncontrolled medical condition (including other concurrent malignancy) that may be disruptive to the intent and objectives of the study
• Dog is pregnant or likely to become pregnant
• Dog is participating in another study
• Dog may not be available for the entire study duration
If you are interested in participating in this clinical trial, please call us at 702.871.1152 for more information and to set up a consultation. Initial consultation fee is still the responsibility of the owner, whether or not the dog is accepted into the trial, and dogs must not have been previously treated for lymphoma.