By Jackie Valley
Gunner knows the drill. The stocky, yellow Labrador retriever sits on his hind legs, tail flopping, as a veterinarian technician inserts a needle into his neck to draw blood. An assistant holds Gunner's snout, but it's almost unnecessary. Gunner barely wiggles.
In remission from cancer, the 12-year-old dog is regularly brought to the Las Vegas Veterinary Specialty Center for chemotherapy and, more recently, checkups to make sure his cancer hasn't returned.
Now when he arrives at the clinic, Gunner promptly steps on the scale.
"They get fairly used to it," veterinary oncologist Dr. Andrew Vaughan said.
Staffers at the animal hospital at Tropicana Avenue and Durango Drive have noticed a long-term increase in the number of new cancer patients they treat. New oncology cases there climbed from 545 in 2007 to 759 last year. Doctors there estimate they could see as many as 984 this year.
In the oncology unit, an 11-year-old black Labrador rests after undergoing chemotherapy for cancer in his spleen. A German shepherd mix wears a plastic cone to prevent her from pawing a probable tumor under her left eye. A cat nestles into a blanket after a cancer treatment.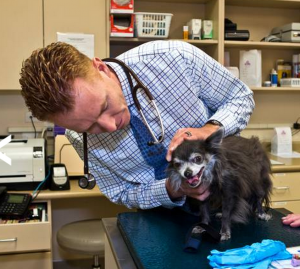 "There's a perception that cancer (in cats and dogs) is happening more often, which may or may not be reality," said Vaughan, who has worked at the Las Vegas Veterinary Specialty Center center for 10 years. "I think it's definitely being diagnosed more often."
Cancer among domesticated animals is not tracked in any official way, but Vaughan attributes the clinic's rise in cancer patients to several factors: more awareness about treatment options; pets living longer; and owners' increased willingness to pay for advanced medical care.
"Cancer is a disease of aging, usually," Vaughan said. "Because pets are living longer lives, they're being diagnosed with cancer more often."
Vaughan suspects that, to a lesser extent, bad breeding practices, overprocessed diets and environmental toxins also may play a role, but research has not established a direct link.
Whatever the reason, it's not cheap to treat animals with cancer. Cancer-related surgeries can cost several thousand dollars, and chemotherapy — often the same drugs used to treat humans, just in lower doses — can be as pricey as a new car.
"The financial aspects of it all are challenging and frustrating," Vaughan said. "All veterinarians wish it was free."
Pet insurance exists, but only about 10 percent of the animals Vaughan treats have it.
Gunner's owner, Shannon Skinner, didn't have pet insurance when Gunnr was diagnosed with a 12-centimeter hemangiosarcoma tumor last November. Since then, Skinner estimates she has spent $5,000 to $6,000 on Gunner's chemotherapy.
"It's expensive, but I can't put a price on Gunner's life," said Skinner, who also owns a black Labrador and chocolate Labrador.
There's one big difference between cancer treatments for humans and animals: With pets, it's generally more about quality of life than long-term survival. Most owners opt to put their pet on more conservative doses of chemotherapy that extend life. That allows the animal to live at home during treatment and not suffer the nasty side effects associated with chemotherapy.
When Gunner was undergoing chemotherapy, he never vomited or had diarrhea, Skinner said. In fact, she usually bought him a "healthy hamburger" — sans bun — on the way home from treatments.
"This guy is tough," Skinner said.
And Vaughan had good news to share: Gunner remained in remission two months after ending chemotherapy.